Preparing Couples for Marriage
I would really recommend this to other couples embarking on marriage as it makes you think about and talk about different aspects of your relationship."
When couples get ready for their married life together it is very easy to keep focussing on the preparations for the wedding day and give less time to the relationship itself.  Mothers' Union believes it is important to help create opportunities for couples to set aside time away from the busyness of wedding preparations so they can focus on their relationship and the commitment they are making to each other.
In many areas the Mothers' Union Loving for Life programme trains members to effectively facilitate groups for couples planning to marry in church. When couples come to sessions, Mothers' Union facilitators and their clergy cover topics relevant to all relationships as well as those relevant to the particular circumstances and needs of the couples they engage with, as every relationship is unique. Couples are encouraged to discover what is right for them and not be given someone else's recipe for marriage. They are able to learn more about each other, their hopes, dreams and expectations, ways to communicate with each other, and talk about matters that will help them as they journey through their married life.
Many different areas were covered and gave opportunity to think about ourselves/each other. It raised many questions I had never even thought about. I found this a very useful and thought provoking session."
The sessions are designed to be adaptable for every local situation and to ensure couples approach marriage with a positive yet realistic approach. Couples learn ways to nuture their relationship for the rest of their lives by developing new ways to relate and communicate. 
I will take many of the points raised on board and feel sure they will help us in our future life together."
Participating couples say they benefitted from these opportunities to reflect and that they thoroughly enjoyed taking time away from the wedding preparations to focus on their marital relationship and on the relational and spiritual significance of their commitment. Couples who attended have also suggested that this opportunity should be available to other couples.
If you would like to find out about sessions for couples preparing for marriage in your area please contact us.  If you are an engaged or married couple and you are not able to attend a local marriage preparation group, you may find the material for couples in our Practical Support section useful.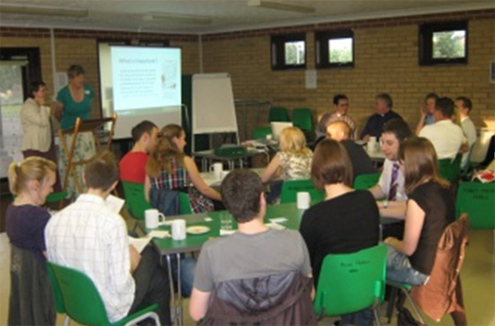 Couples session in Norwich delivered by Mothers' Union Loving for Life facilitators.